Events for the Week
______________________
Click month to access the St. Mark Church Calendar for the month.
​​The Witness is the monthly newsletter for St. Mark. Stay up to date by clicking on the icon to the left.
We encourage our members to subscribe to the newsletter via email in order to save the cost of postage. You can contact contact Paige at office@stmarkgreenwood.com to get on the email list.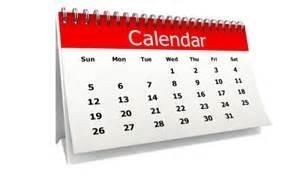 Sunday, January 19, 2020



Traditional Worship Services

8:45 a.m. and 11:00 a.m., BPC
Small Group
8:45 a.m., TCC
Sunday School

10:00 a.m., BPC, RSC. and TGP
Blended Worship Service
10:00 a.m., TCC
Contemporary Worship Service

11:15 a.m., RSC
Hispanic Worship Service

3:00 p.m., BPC Pairs and Spares Classroom
Monday, January 20, 2020



Fit 4 Ever Exercise Class

10:30 a.m., BPC TGP
Trustee Meeting
5:30 p.m., BPC Founders Hall
Westside AA Meeting

5:30 p.m., BPC TGP
Tuesday, January 21, 2020



Backpack Meals Packing
9:00 a.m., BPC Backpack Meal Room
Women's Bible Study
9:00 a.m., BPC Library
Wayne Goff Hall in use
5:30 p.m., RSC
Women on My Journey AA Meeting

6:00 p.m., BPC TGP
Women's Bible Study
6:30 p.m., TCC Fellowship Hall
Wednesday, January 22, 2020



Men's Bible Study
6:30 a.m., BPC Library
Fit 4 Ever Exercise Class
10:30 a.m., BPC TGP
Women's Bible Study
6:00 p.m., BPC Library
Chancel Choir Practice

6:30 p.m., BPC Sanctuary and Choir Room
Contemporary Band Rehearsal
6:30 p.m., RSC Worship Center
Men's Bible Study
6:30 p.m., RSC Classroom #2
Thursday, January 23, 2020



Men's Bible Study
6:30 a.m., BPC
WOW
12:00 p.m., BPC Founders Hall
Wayne Goff Hall in use

5:30 p.m., RSC
West Side AA Meeting

5:30 p.m., BPC TGP
Hispanic Bible Study
7:00 p.m., BPC TGP
Friday, January 24, 2020



Fit 4 Ever Exercise Class

10:30 a.m., BPC TGP
Ladies Lunch Out
12:00 p.m., Bestos