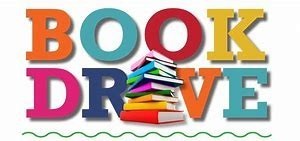 Kids' World Book Drive!

50 Books by Pentecost, May 20th?

Give the gift that keeps on giving…

Please help us expand and update our early learning library for the KWM children! We have a wish list of books, in three categories.

Simply go to the KWM section of the church website, choose a book, and sign up for the one you would like to contribute, or maybe you have one of them at home already that you can give to us.

Be sure to include special info if you want it to be in honor/in memory of a special loved one, a birthday, or anniversary. Each donated book will have a special sticker bookplate with your name on it inside the front cover. We would love to receive hardcover editions when/if possible, because they have a longer shelf life (our paperbacks are getting worn with use).

The three categories of books include recommendations for preschool libraries by the UMC Board of Discipleship (38 books), the School Library Journal Readers' Top 100 Picture Books, and an assortment of Caldecott Award winning titles.

Please help us reach our goal of at least 50 books by May 20! Thank you!!!

BOOKS ITALICIZED HAVE BEEN PURCHASED ALREADY.
Books Recommended for Preschool Libraries by the UMC Board of Discipleship -
Biblical Foundations

On Noah's Ark, Jan Brett
Runaway Bunny, Margaret Wise Brown
Let's Make a Joyful Noise, Celebrating Psalm 100, Karma Wilson
Psalm 21, Tim Ladwig
Morning Has Broken, Eleanor Farjeon
Adam and Eve and the Garden of Eden, Jane Ray
Noah's Ark, Jerry Pinkney
Psalms for Young Children, Marie-Helene Delval
Psalm 23, Tim Ladwig
Jonah and the Big Fish, Sekiya Miyoshi
Star of Wonder, Leena Lane
J is for Jesus: an Easter Alphabet and Activity Book, Debbie Trafton O'Neal
The Miracles of Jesus, Tomie dePaola
Tonight You Are My Baby: Mary's Christmas Gift, Jeannine Q. Norris
The Friendly Beasts, John J. Blumen
The Nativity, Julie Vivas
Easter, Easter, Almost Here!, Kathleen Long Bostrom (board book)
The Colt and the King, Marni McGee
Faith Formation and Spiritual Formation

Goodnight Moon, Margaret Wise Brown
Where is God?, Lawrence and Karen Kushner
My Spiritual Alphabet Book, Holly Bea
Good Night God, Holly Bea
Where Does God Live?, Holly Bea
Because Nothing Looks like God, Lawrence Kushner
Stewardship

Beatrice's Goat, Page McBrier
Peter's Chair, Ezra Jack Keats
Three Panda's Planting, Megan Halsey
Creation and the Animal Kingdom

What Do You Do With a Tail Like This?, Steve Jenkins/ Robin Page
Brown Bear, Brown Bear, What Do You See?, Eric Carle
The Snowy Day, Ezra Jack Keats
God Created, Mark Francisco Bozzuti-Jones
Life's Lessons

Cookies: Bite-Size Life Lessons, Amy Krouse Rosenthal
Alexander and the Terrible, Horrible, No Good, Very Bad Day, Judith Viorst/ Ray Cruz

Parent and Child…and Grandparent

Guess How Much I Love You, Sam McBratney
Mama Do You Love Me, Barbara M. Joosse
Papa Do You Love Me, Barbara M. Joosse
Are You My Mother?, Dr. Seuss
Sacraments

Water, Come Down!, Walter Wangering, Jr.
School Library Journal Readers' Top 100 Picture Books

Where the Wild Things Are, Maurice Sendak
The Very Hungry Caterpillar, Eric Carle
Don't Let the Pigeon Drive the Bus, Mo Willems
Goodnight Moon, Margaret Wise Brown/Clement Hurd
The Snowy Day, Ezra Jack Keats
Make Way for Ducklings, Robert McCloskey
Knuffle Bunny, A Cautionary Tale, Mo Willems
Alexander and the Terrible, Horrible, No Good, Very Bad Day, Judith Viorst/Ray Cruz
Bark, George, Jules Feiffer
The Monster at the End of This Book, Jon Stone/Mike Smollen
Lilly's Purple Plastic Purse, Kevin Henkes
Green Eggs and Ham, Dr. Seuss
Miss Rumphius, Barbara Cooney
Caps for Sale, Esphyr Slobodkina
Frog and Toad are Friends, Arnold Lobel
Harold and the Purple Crayon, Crockett Johnson
The Story of Ferdinand, Munro Leaf/ Robert Lawson
A Sick Day for Amos McGee, Phillip Stead/Erin E. Stead
The Tale of Peter Rabbit, Beatrix Potter
Pete the Cat: I Love My White Shoes, Eric Litwin/James Dean
Millions of Cats, Wanda Gag
Corduroy, Donald Freeman
Chicka Chicka Boom Boom, Bill Martin Jr./John Archambault/Lois Ehlert
Tuesday, David Wiesner
Kitten's First Full Moon, Kevin Henkes
We Are in a Book, Mo Willems
Bread and Jam for Frances, Russell Hoban/ Lillian Hoban
Go, Dog, Go!, P.D. Eastman
Miss Nelson is Missing, Harry Allard/James Marshall
Owl Moon, Jane Yolen
Blueberries for Sal, Robert McCloskey
The Little House, Virginia Lee Burton
The Lorax, Dr. Seuss
Strega Nona, Tomie de Paula
The True Story of the Three Little Pigs, Jon Scieszka/ Lane Smith
The Cat in the Hat, Dr. Seuss
The Lion and the Mouse, Jerry Pinkney
Brown Bear, Brown Bear, What Do You See?, Bill Martin, Jr./ Eric Carle
Click, Clack, Moo: Cows That Type, Doreen Cronin/Betsy Lewin
Good Night Gorilla, Peggy Rathmann
Curious George, H.A. Rey
Freight Train, Donald Crews
Harry the Dirty Dog, Gene Zion/ Margaret Bloy Graham
The Little Mouse, the Red Ripe Strawberry, and the Big Hungry Bear, Audrey and Don Wood
Are You My Mother?, P.D. Eastman
Grandfather's Journey, Allen Say
Madeline, Ludwig Bemelmans
George and Martha, James Marshall
Press Here, Herve Tullet
The Mysteries of Harris Burdick, Chris Van Allsburg
The Library, Sarah Stewart/ David Small
Zen Shorts, Jon J. Muth
Thank you, Mr. Falker, Patricia Palacco
Olivia, Ian Falconer
Sylvester and the Magic Pebble, William Steig
The Polar Express, Chris Van Allsburg
Doctor De Soto, William Steig
Scaredy Squirrel, Melanie Watt
Officer Buckle and Gloria, Peggy Rathmann
There is a Bird on Your Head, Mo Willems
How the Grinch Stole Christmas, Dr. Seuss
Go Away, Big Green Monster, Ed Emberley
The Sneetches and Other Stories, Dr. Seuss
King Bidgood's in the Bathtub, Audrey Wood
The Arrival, Shaun Tan
Chrysanthemum, Kevin Henkes
Bedtime for Frances, Russell Hoban/ Garth Williams
The Three Pigs, David Wiesner
Moo Baa La La La, Sandra Boynton
Rhyming Dust Bunnies, Jan Thomas
Stellaluna, Janell Cannon
But Not the Hippopotamus, Sandra Boynton
May I Bring a Friend?, Beatrice Schenk de Regniers/ Beni Montresor
I Want My Hat Back, Jon Klassen
Cloudy With a Chance of Meatballs, Judi Barrett/ Ron Barrett
Eloise, Kay Thompson
Flotsam, David Wiesner
Zoom at Sea, Tim Wynne-Jones/ Eric Beddows
Pierre, Maurice Sendak
Madeline's Rescue, Ludwig Bemelmans
Fortunately, Remy Charlip
A Visitor for Bear, Bonny Becker/ Kady MacDonald Denton
Bear Snores On, Karma Wilson
Not a Box, Antoinette Portis
The Giving Tree, Shel Silverstein
The Paper Bag Princess, Robert Munsch
My Lucky Day, Keiko Kasza
No, David!, David Shannon
Tikki Tikki Tembo, Arlene Mosel/ Blair Lent
Arnie the Doughnut, Laurie Keller
The Gardener, Sarah Steward/David Small
Traction Man is Here!, Mini Grey
The Mitten, Jan Brett
The Kissing Hand, Audrey Penn
Ira Sleeps Over, Bernard Waber
Where is the Green Sheep?, Mem Fox/ Judy Horacek
Duck on a Bike, David Shannon
The Maggie B, Irene Haas
The Carrot Seed, Ruth Krauss/ Crockett Johnson
Caldecott Award Winners
Mr. Wuffles, David Wiesner
Waiting, Kevin Henkes
Green, Laura Vaccarro Seeger
Extra Yarn, Mac Barnett/ Jon Klassen
A Ball for Daisy, Chris Roschka
Creepy Carrots, Aaron Reynolds/Peter Brown
Sam and Dave Dig a Hole, Mac Barnett/ Jon Klassen
The House in the Night, Susan Marie Swanson