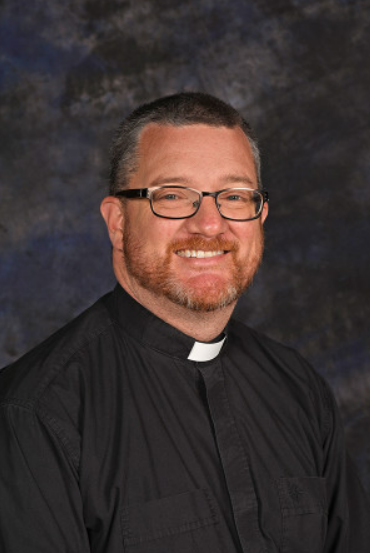 Pastor Joey Gambrell
Parish Pastor
Greetings St. Mark Family!
Can you believe that we are already in September! September is one of my favorite months because in a few short weeks it will be Fall. I love Fall! The leaves on the trees will begin to change color. Daily temperatures will begin to drop allowing me to wear some of my favorite clothes. The air will go from hot and humid to cool and brisk. Football starts and the NASCAR play-off races begin. Soon it will be Halloween and Thanksgiving, my two favorite holidays! The only downside to fall is that daylight becomes shorter. What is your favorite season? I ask this question because while some of you love Fall like me, some of you don't want summer to end. Others of you wish we could jump straight to Winter and Advent and Christmas. Some of you are longing for Spring and the new growth that is to come. And just as the calendar seasons change, we experience different seasons in our lives, some that we like better than others.
In the sixth chapter of the Gospel of John, Jesus feeds a crowd of 5,000 people with five loaves of bread and two fish. (John 6:1-14). The next day, with their bellies full, the crowd of 5,000 gathered around Jesus again wanting to be fed. Jesus takes this moment to teach them, "I am the bread of life. Whoever comes to me will never be hungry, and whoever believes in me will never be thirsty." (John 6:35). The crowd that gathers around Jesus is at different seasons in life, so they receive different Jesus differently. The first group hears Jesus, and they fall apart. Jesus shatters their world view, their history and testimonies, so they demand Jesus prove himself to them. (John 6:22-34). The second group, a group that thinks they know Jesus, yet when they hear Jesus, they are filled with questions about his identity. (John 6:41-50) The third group hears Jesus contradict the law given to them by Moses, so they argue with Jesus. (John 6:52-58). The disciples also hear Jesus, but feel his teaching is difficult to accept, leading many to turn back and join the crowd. (John 6:60-69) Yet Jesus, facing all these different reactions, remained steadfast with the crowd, meeting them where they are at and teaching that he is the bread of life.
St. Mark this is our GOOD NEWS! No matter which calendar season we are in and no matter what season of life we are in, Jesus is steadfast. Just as he met the crowd where they were, Jesus meets us in all seasons of life. Just as Jesus embraced the crowd, Jesus embraces us. Just as Jesus gave himself as the bread of life, Jesus gives us a life of abundant love, grace, and hope through his life and the cross. And just as Jesus promised a life that is eternal, Jesus promises us a life that is eternal, as he builds his kingdom now and always. So church, as we enter a season of change on the calendar and no matter the season of life you are in, Jesus is the bread of life; steadfast, abundant, and eternal! Embrace him as he embraces us.
Blessings on the journey,
Pastor Joey