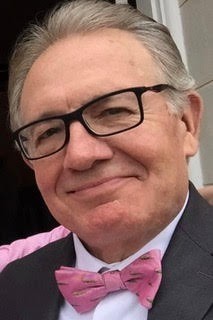 Rev. Dr. Dan Smyth
Associate Pastor
CRAVING AUTHENTICITY
Small talk. We all do it. It often happens when we first meet each other. It's the old way of introducing ourselves. Some of us liked it, others tried to avoid it like the plague. It seems the same questions always began the conversation. It went something like:
-So, what do you do?
-Are you married/what do you drive/blah, blah, blah.
One thing is for sure--small talk is only a conversation starter--in its essence, it's superficial and people today are demanding something more.
Authenticity is What Younger Generations Crave Today
The business world is living and dying by it. Consumers are demanding authenticity and will accept nothing less. Plus today's social media has the potential of exposing what is NOT authentic--LIVE online--instantly.
What does it mean for us at St. Mark? How can we be known, within our communities, as a church that creates authentic relationships?
Authentic Relationships Are What 'Church' Must Look Like As We Enter The Coming 'Post-Church' Era.
Clearly, authentic relationships are created - they don't just happen. We must be intentional in creating new spaces for gatherings where all people feel welcome. Where good conversations can begin with listening to each other's stories with genuine interest - an art that requires a greater investment of time than just engaging in small talk.
We have so much potential--to work together--creating group events that are interesting/fun and challenging--where people are treated as equals, not targeted as projects. Free to be themselves and welcomed, respected for who they are--dearly loved by God.
It's what the apostle Paul called the "Mystery of Christ" hidden until Jesus came and revealed--God loves all his children. It's the story Jesus told about the man with two sons - the religious one, as well as the other. The Father said, "I have always loved you both." (Ephesians 2 and 3 and Luke 15). Jesus was the most authentic person that ever walked this earth.
LET'S BE AUTHENTIC - Ordinary People, Doing Ordinary Things, With the Extra-Ordinary Love of God.
See you in church.
Pastor Dan